TRAVELLING IN LAOS
In search of Ma Khaen berries.

Vientiane. After 18 hours travelling, our first impressions give an overall feeling of peacefulness and calm. Even in the capital city of this country with a population of 7 million, there is no noise, no horns … Just a genuine feeling of kindness. The central market is full of all kinds of electronic equipment of various brands, beautiful material, silver jewellery, but there seems to be no Ma Khaen berries on the spice stalls. So, we set off for the North-East, in search of the Ma Khaen tree, on a flight to Luang Prabang. At dawn we catch sight of fresh berries at the local market. So, it's clearly harvest time here in the region. What a joyous discovery!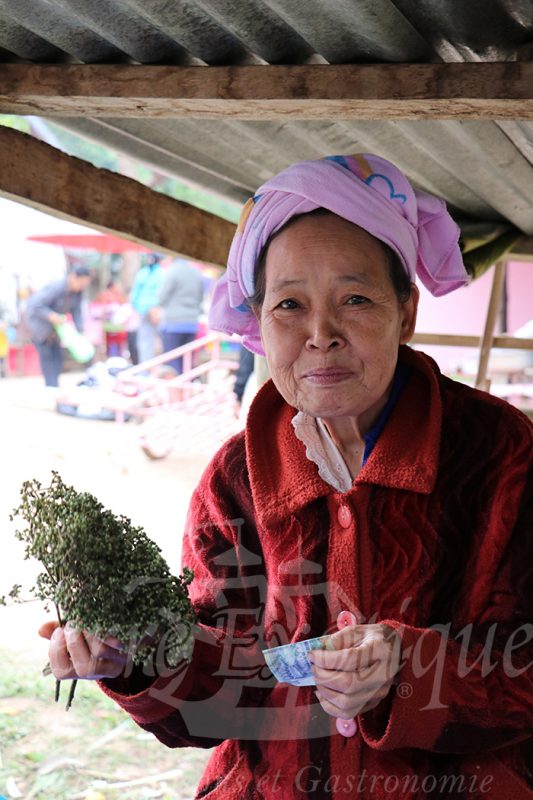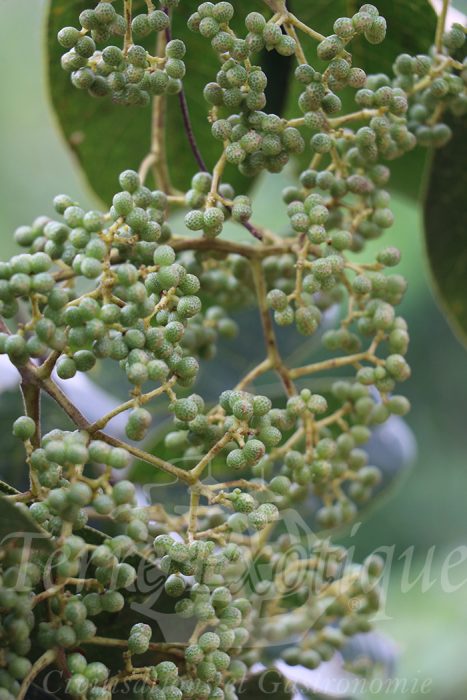 A few sachets of roughly sorted dry berries are sold by a handful of women. As we have no interpreter it's difficult to find out more. The tree is "up there" in Lao? But where? No way of finding out more. At least I have been able to lay my hands on some fresh berries which means we can ask about, in restaurants… Fairly rapidly, a waitress tells us "they grow in my village. We ate them all the time when I was little". Which village? Where? How do we get there?  It's in the North-East, close to the Vietnamese border. We need to head up the Mekong, then onto the "Ou", "Nam Ou" river.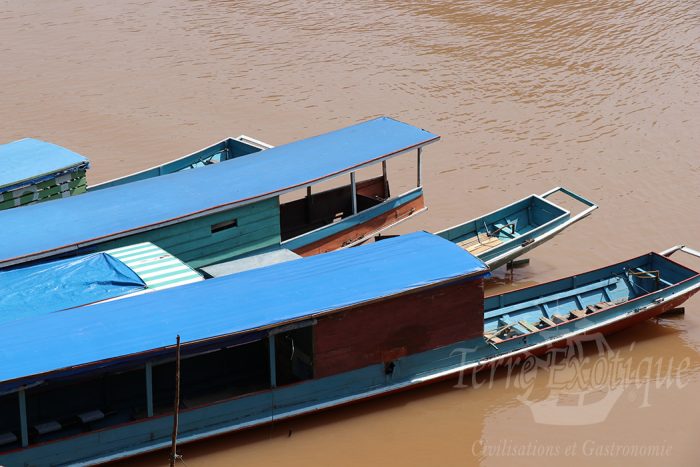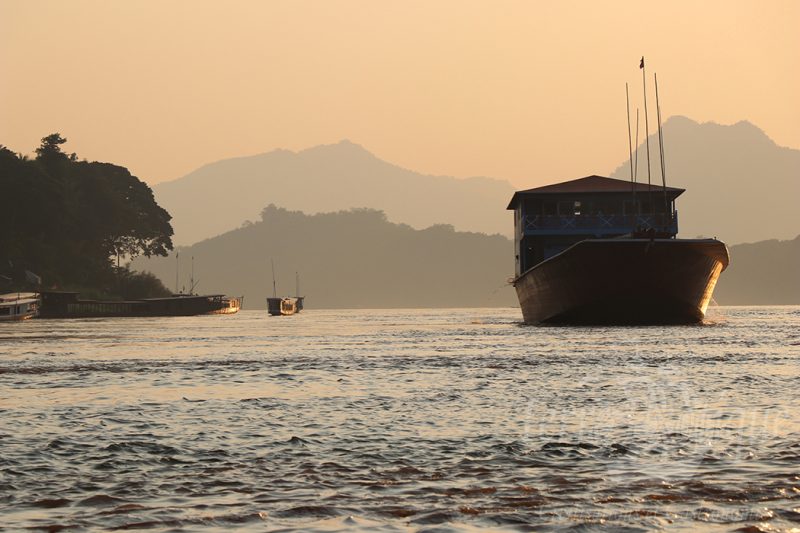 This river has a taste of paradise. The boat moves fairly quickly, gliding past the karst mountains. As we head upstream, there's a strange feeling of going back in time. As the days pass and we stop in different villages, each person we meet has more say about this marvellous berry. It's used every day in the villages. It's their pepper. We are on the right track, and what a track….of meetings and sharing.
We walk for a few hours amidst rice paddies, with cows and pigs roaming freely. On the way we see scenes of daily life: an old couple cutting bamboo with amazing dexterity. They must have been doing it all their lives. And at last we come upon the first plant.  Zantoxylum XX.  Our guide Khao, is going to show us how the harvesting is done. The tree is very tall, growing up to 15 metres high. The local men show us their technique to reach the high branches: they interlock sticks of bamboo to produce super long stalks.
One end is sharpened with a machete, making a kind of natural jaw. This cuts the branch on which the drupes of berries grow. This task requires extreme dexterity and strength. The berries drop to the ground and then the men look amongst the bamboo for them… They are divinely fresh … what a delicious scent of citrus fruit and lemon grass!

Ma Khaen berries in Laos cuisine
Meeting Dju's father, our waitress from Luang Prabang.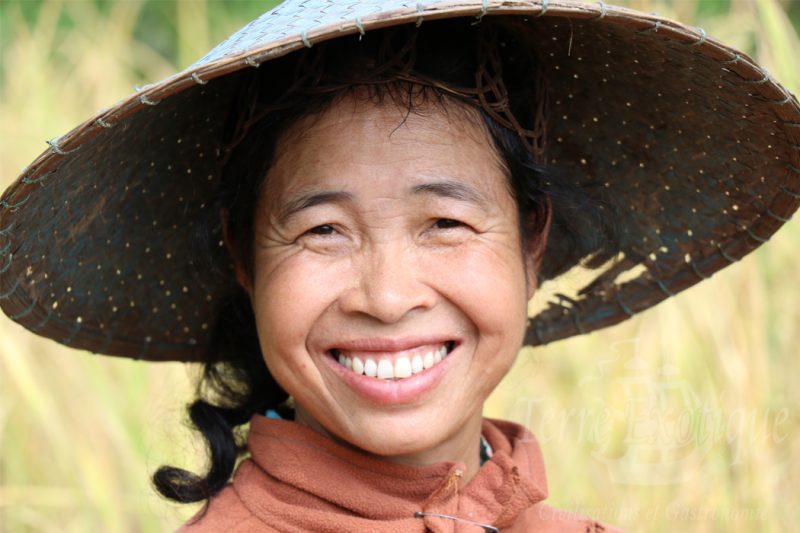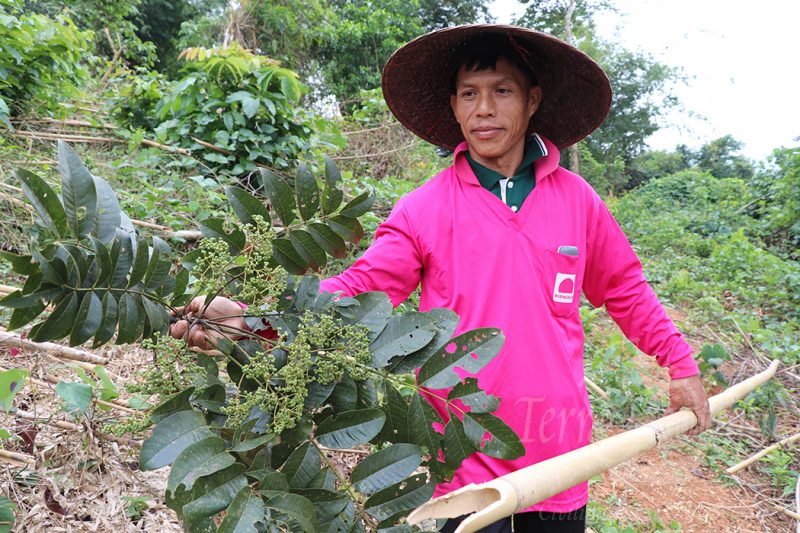 Here we are in Luang Nam Tha. All the village's resources are focused on the rice harvest. Dju's parents warmly welcome us into their home with perfect simplicity. Sabaidi. (hello). Kop chai (Thank you). We have been invited to eat with them.  It is clearly obvious here that they take great pleasure in cooking. We spend a wonderful time together, emptying the chicken, preparing the sauce, flavoured, of course, with Ma Khaen berries, their pepper… 2 hours of pure delight. They make balls out of sticky rice and use them somewhat like bread. A family of 4 - 5 needs 3 tons of rice a year. In this area, the villagers' lives revolve around the rice growing seasons. Rice is mainly grown purely for the family needs. Seeds are sown in June and July and harvested in November. We are lucky to be here in the middle of harvest time. A perfect scene of country life, everything is done by hand, using no machines. The crops alternate between vegetables and sweet potatoes …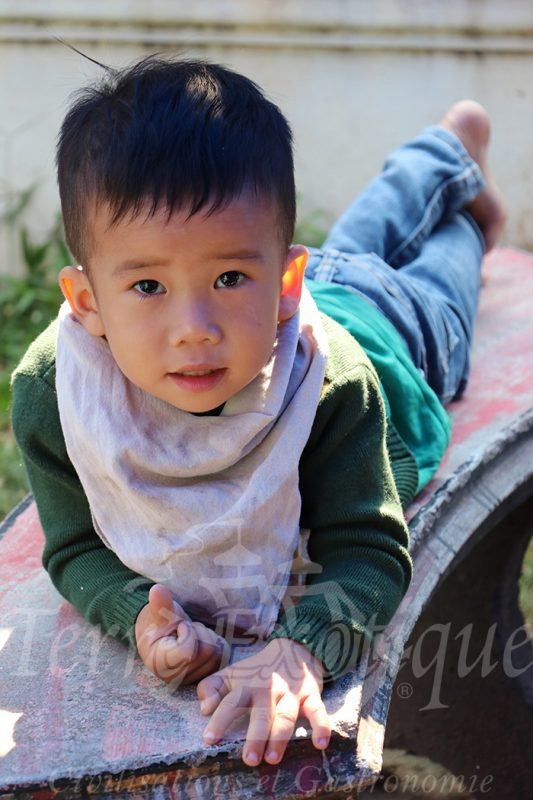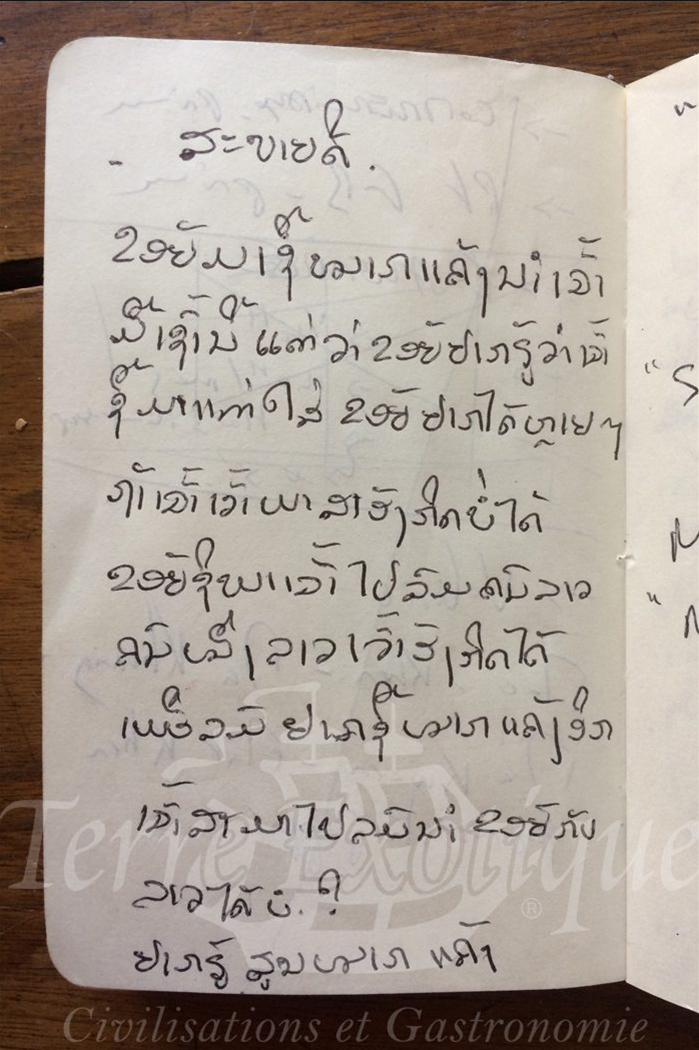 On returning to France, as we taste our Ma Khaen berries, they bring back fond memories of people we met and moments shared with local villagers. Now it's time to bring our cuisine alive with these extraordinary berries!