HOW TO CHOOSE YOUR VANILLA?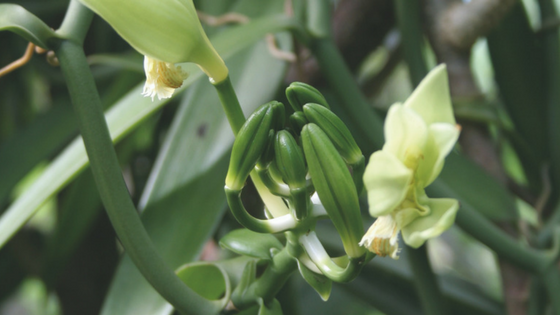 What's the history behind vanilla? Where does it come from?
We unveil the secrets of vanilla for all you gourmets!

The history behind this wondrous black pod
"Vanilla" comes from the Spanish word "vainilla" which means "pod". It initially came from Central America, and more precisely from an area reaching from Mexico, to Guatemala including Belize and Honduras. It is said that the Aztecs used it to sweeten the bitterness of chocolate. The Totonac people, inhabitants of the coastal regions of the Gulf of Mexico, controlled the monopoly of vanilla production until the 19th century.
In 1850 Edmond Albius, a slave from La Reunion, discovered how to pollinate the flower manually. To thank him for this wonderful discovery he was set free. Once free he took the name Albius referring to the white colour (alba) of the vanilla orchid.
Its production is carried out solely by hand and requires great patience, care and dedication. Indeed, the harvesting, maturing and sorting are done entirely by hand and demand great skill, patience and devotion. The pods are first scalded, sweated, dried in the sun for two weeks, flattened by hand, then dried in the dark for 8 months in crates and then sorted.
The aromas of vanilla come from vanillin, a phenolic aldehyde present in the form of white crystals. The higher the vanillin content the stronger the scents and flavours of the pod will be.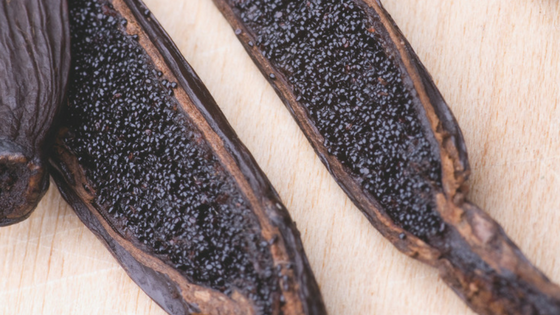 How to choose your vanilla?
Vanilla pods should be oily, plump and fleshy, and black or dark brown. If a pod is dry it will have lost some of its aroma, its scent and flavour. However, if it has been correctly matured, its aromatic profile will be truly outstanding. A good quality pod takes 6 to 12 months to prepare and is then matured for at least 90 days.
The size of the pod is not that important, what really counts is that the vanilla bean is harvested when fully ripe. The origin of the vanilla must be clearly identifiable on the label.
The criteria for determining the quality of vanilla include its fragrance and length, whether it is supple and soft to the touch, and if there are any visible defects (split, not split, traces of mold), its colour (black, brown or red) and glazing, its moisture content (oily, dry) and the level of vanillin.
You can also choose vanilla depending on what you are going to use it for. Each vanilla has its very own specificities and aromatic footprint.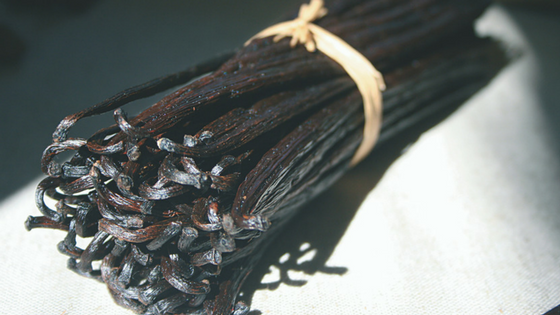 Where do the different vanillas come from?
Madagascan vanilla (Vanilla Planifolia ): was introduced by the Reunion planters to the island of Nossi-Bé in the 1880's.  It is now mainly grown in the North-West of the island, in Ambanja, Sambava and Antalaha. It is picked before it ripens (at 7 months) due to the dehiscence of the bean (the pod splits open before fully ripened). It releases warm and fruity chocolatey notes and delicious scents of an old amber rum.
Papua New Guinea Vanilla  (Vanilla Planifolia): its production is very select with only a few tons produced each year. Its fresh and floral notes with hints of anise, are perfect with delicate fish, in cream sauces, but also in baking, home-made madeleines, French toast, cookies, white butter or in macarons.
Tahitian Vanilla (Vanilla tahitensis): was introduced to Tahiti in 1848 by Admiral Hemlin. Nowadays, it is grown primarily on the high islands of French Polynesia and the Leeward islands. Contrary to Madagascan vanilla, Tahitian vanilla is indehiscent, so the bean does not split open. It remains on the vine 3 months longer than Madagascan vanilla before it is picked. Its floral and buttery notes are delicious with honey, apricot jam, tarte Tatin and fish "en papillote".
Mexican Vanilla (Vanilla Planifolia): is grown mainly in the state de Veracruz, the birthplace of vanilla, ever since the 12th century. It is perfect in baking. It has fruity and chocolatey flavours and releases notes of old amber rum. It is delicious in crème brûlée, pancake mixture, crème anglaise custard and will enchant home-made rice pudding.
La Reunion Vanilla (vanilla planifolia): Introduced to the island of la Reunion in 1819 by Captain Philibert and the botanist Perrotet. Rare and truly outstanding, it sometimes even looks frozen. The vanillin content is very high which means white crystals that look like ice form on the pod's surface. It releases spicy notes and scents like an old aged Bourbon. Delicious with duck, sautéed shrimps and scallops.